OUT OF BREATH and hands trembling, Ophelia opened the velvet pouch and slid out the bottom half of a feather, one that was a dark olive with hints of bright green and aquamarine. Right away she noticed a resemblance to the one in the white linen. Ophelia joined them together. Her heart almost stopped when she discovered that they matched perfectly.
It was clear to her that she must go with Q to the Land of Cain—in the beyond, a place with jummy bugs, gruntles, a water nymph and The Messenger.
So begins the thrilling journey that will take Ophelia from her uneventful life in the fortressed village of Paipalon into a land filled with peculiar creatures, like Gat, Mosstoe and the brothers Kimber and Van. While trying to make it to the village of Charleroi to meet The Messenger, Ophelia will be thrown off course by a murker known as Mother Growler. In an attempt to thwart the murker's evil plan, Ophelia learns a few valuable lessons, one of which saves the lives of those she has come to love.
A big thanks to all who have encouraged me in this venture. Enjoy!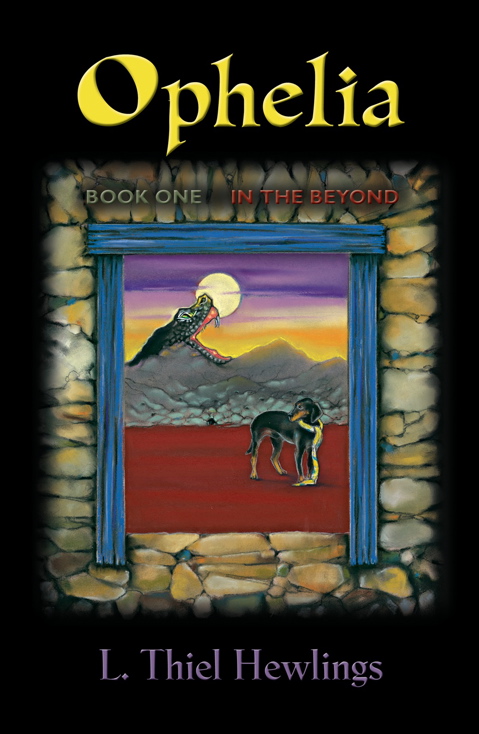 THIS MIDDLE-GRADE/ YOUNG ADULT FANTASY IS 433 PAGES WITH 30 ILLUSTRATIONS.
IDEAL FOR AGES 10-14.
SOFTCOVER $18.95
NOW AVAILABLE AT BOOKLOCKER.COM
(also available through other retail bookstores)
*COMING SOON: SIGNED COPIES AT
OPHELIA WEARABLE ART